Yesterday was the last day of school. Even though I will miss teaching for two months, I will be able to get some more things done around the house and of course, blog more!
To piggy back on my last blog about cloth diapers, I bring you... homemade baby wipes!
Why homemade wipes you may ask? BECAUSE many items packaged and sold in stores contain way too many chemicals. Conventional wipes have many ingredients and most of them are chemical. Like, phthpegalates (fragrance), parabens (used to preserve the wipes), PEG's (a synthetic chemical that increases cancer), phenoxyethanol (used as an anti-bacterial that can cause vomiting and diarrhea) and the list goes on and on.
Homemade baby wipes take time to make. I like to look at it this way, by the time it takes you to drive to the store, get the wipes, pay for them and drive back the homemade baby wipes are made. You could also make a bunch of them at one time. This is what I like to call BULKING.
They are really easy to make.
1 roll Bounty (must be Bounty – every website I visited all said Bounty is the only brand that works because it's the strongest. Otherwise, the wipes will fall apart)
A very sharp knife or an electric knife works best (this is the hardest part, it's hard to cut a thick roll of bounty with just a knife. I've even read about people using a miter saw)
1 T. baby wash (Johnson&Johnson all natural)
1 T. coconut oil (Organic that can be bought at whole foods or an all-natural food store)
1 C. water (make sure it is hot if you're using coconut oil so it'll melt)
1 container to put the wipes in (Dollar Store has plenty)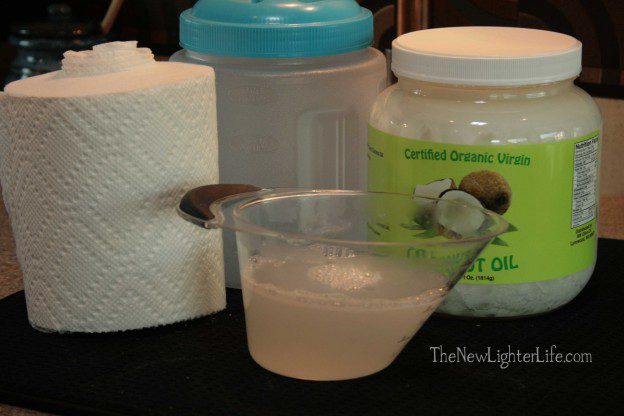 OK now here is how to make them. I am collecting information from reliable websites and using my own input to find out what works best with the minimal amount of work.

1st- Cut the Bounty roll in half

2nd- Remove cardboard tube inside the paper towels (some suggested to do this at the end because once the paper towels are wet, the tube is easier to remove)

3rd- Put the dry paper towel roll into the container

4th- Mix baby wash, hot water and coconut oil

5th- Pour the mixture into the paper towel container

6th- Pull wipes from center for quick access and cover the container!

7th- Wait about an hour until the towels soak up the mixture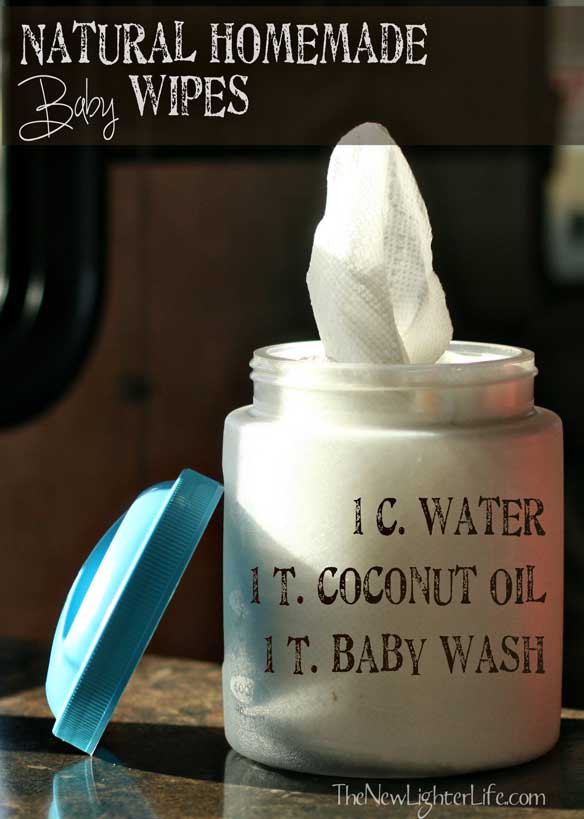 FYI- If you buy the bigger rolls of Bounty, get bigger container. The regular size rolls will fit in a container like the one above

Also, for travel-friendly wipes, take a bunch of wipes and put them in a Ziploc bag

Just when you think cloth diapers and homemade wipes are enough to ensure a healthy growing baby...YOU'RE WRONG.


What about baby food?

After breastfeeding, what do I feed the baby to make sure the food is free from chemicals and preservatives? The answer is... COMING UP IN THE NEXT POST. Kidding, I wouldn't do that to you, too suspenseful.

The answer is... make the baby food yourself! SEE, HOW FUN!

First of all, we all know most jar food has preservatives and chemicals to keep it "fresh." Second of all, did you know that some of the best foods for your baby are not even in most jar foods? Like avocado. Avocado is a must for babies and even adults, why not put it in baby food?!

Here is a list of the ten best foods for babies and their essential nutrients:

~ Squash: excellent source of Vitamin A and C, naturally sweet, pleasing texture
~ Lentils: lots of protein and fiber
~ Dark green leafy vegetables: high amounts of iron and folate, spinach may be the best
~ Broccoli: so much folate, fiber, and calcium
~ Blueberries: good for your baby's eyes, brain, and urinary tract
~ Avocados: rich source of unsaturated fats, good for brain development
~Eggs: Protein
~ Prunes: fiber to help reduce constipation
~ Garbanzo beans: rich in protein and fiber, there are lots of variations to these beans too

~
Mandarin oranges
: high in Vitamin C and lots of antioxidants, great finger food


And of course, all of them can be bought and/or grown organically (which I'm still looking into growing my own fruits and veggies)


Now that we have the best foods, let's make the baby food!

Doing things in bulks is my thing; for example, I like to make Tommy and myself a week-worth of lunches for work. Sometimes we make a weeks-worth of dinner, so there is always homemade healthy meal for days when we are busy running around. I also make a bunch of protein shakes for Tommy to "grab-and-go." Well, preparing baby food will be no different.
To make your own baby food you will need a blender, food processor, or my choice/obsession THE BABY BULLET!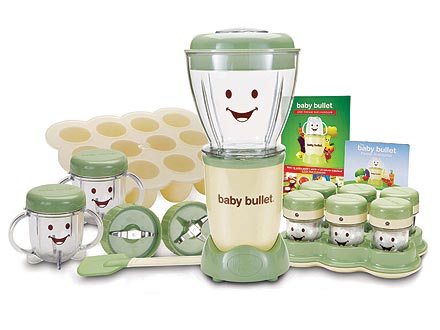 I like The Baby Bullet because it comes with everything and it's cute, but it also comes with the cost. The Baby Bullet has a blender, trays and containers to freeze the food, cups to eat out of, and other various unnecessary tools.
A blender or food processor and small mason jars (to store food) will do the job just as well.
Use one type of food or combine various foods in the blender/processor (I would use various food because babies don't eat much and you want to try to get the most nutrients in every bite) Combine foods like squash and avocado, or broccoli and beans, or blueberries and prunes. The possibilities are endless!
I'm going to use The Baby Bullet website to explain how to make the baby food, remember everything can be replaced with a cheaper, yet still efficient alternative.
The Batch Bowl
When it's time to make large portions of fresh, all-natural baby food, it's time for the Batchbowl!
Twist the revolutionary Baby Blend Blade onto the bottom of the Batchbowl.
Add your ingredients into the Batchbowl.
Push and twist.
And in just a few seconds, you'll have a perfectly blended purée. Plus, as baby grows into more textured foods, simply push and pulse to achieve the perfect consistency every time!
When it's time to turn the family dinner into baby's dinner - or any time you are looking to make a smaller portion of baby food - it's time for the Short Cup
Add your ingredients into the Short Cup and twist on the Baby Blend Blade.
Place the cup onto the Power Base.
Push and twist.
The Milling Blade
The Baby Bullet's amazing milling blade turns whole grains, rice and oats into the freshest cereals.
Add the desired amount of rice or grains into the Short Cup.
Twist on the Milling Blade.
Place the Short Cup onto the Power Base and twist to start grinding.
Grind until you've achieved a fine powder.
Date Dial Storage Cups
The Baby Bullet Storage System includes 6 of the all-new Storage Cups with our exclusive Date Dial System - so you always know EXACTLY when your food was made so you know EXACTLY how fresh it is. Simply fill the cup with baby food, twist the Date Dial to the preparation date and store in the refrigerator or freezer.
Twist the Baby Blend Blade on to the bottom of the Batchbowl.
Add the ingredients to the Batchbowl and close the lid.
Purée until you have achieved the proper smoothness.

So for an alternative way to make baby food: Blend the fruits and/or veggies, fill small mason jars with the blended foods, place a date on the jar (label maker or markers) to remind you when it was made, put some jars in the fridge for the next couple of days and put the rest in the freezer. Take out the jars in the freezer and put them in the fridge a day before feeding your baby so it will defrost.
Foods should last up to a month! Well, there ya go.
So here are some awesome baby recipes. This
website
is unbelievable awesome, it gives really good tips for making homemade baby food and recipes! Here is a sneak peak to the recipes: baby cereal recipes, simple purees, avocado recipes, sweet potato recipes, apple recipes, banana recipes, and much more
~~~~~~~~~~~~~~~~~~~~~~~~~~~~~~~~~~~~~~~~~~~~~~~~

Chemicals in baby wipes
This is a great
website
... an "Age-by-Age Guide to Starting Solid Foods." This website informs mothers the proper age to introduce foods to the baby.